OK, I have a few kids and I am falling behind in mom duties. Some have been sick, with stomach virus. Even though, I have been knee-deep in it, I now have a furious, head cold. I'm trying to get laundry caught up, bathrooms bleached down, make-up school- work finished, etc....It is a good thing I work for myself, I'd be fired by now.....I just wanted to show you, a little table I found, that I gave a re-do back in the fall. I found it at an estate sale-type place. It is oak. It was stained, yellowy-orangey, very unlovable....I only had a fuzzy," before" cell phone pic, but trust me, you woulda hated it...It was in desperate need of somethin....I wanted to be a little different, so, I think it is kinda urban chic....I did a chocolate, bold stripe on a creamy white. It is a drop leaf table, very solid, well made...I think it is darn cute now, would be great in a funky setting with some bold prints, etc.. contact me if ya want it and are local Atlanta......Here it is, Chocolatte...Enjoy!
Ignore the old chair beside, I'm getting ready to rip it down and recover....
Me, ....I think I can do it....I'm psyching myself up for it, I will keep ya posted
Could be beachy!!! or Lakey....
cute in a bedroom too!!
http://funkyjunkinteriors.blogspot.com/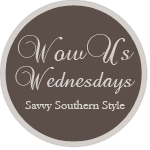 >